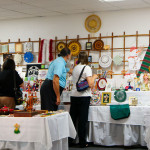 Generally speaking, authentic Polish cuisine, music, and dance is difficult to come by in this area. So, every year around the middle of September, the Polish community in the South Bay throw a party at St. Brother Albert's. We come together and bring you the good stuff. The stuff that's traveled thousands of miles, the stuff that was made by a master Polish butcher or baker, the music we've sung for generations, and the dances we've danced for centuries.
There are events for all ages. With jump houses, food vendors, traditional art, music, and dance, we've got everyone covered.
We know we're famous for our hearty food, and there will be plenty of that, but Poland is so much more than just the best place on earth to get a sausage. We're also known for our amber jewelry, wood work, textiles, crystal glass…and a few other things.
If you've already been, we're looking forward to seeing you again; and, if this is your first year, we'll treat you like an old friend anyway. Witamy!